CEO's Message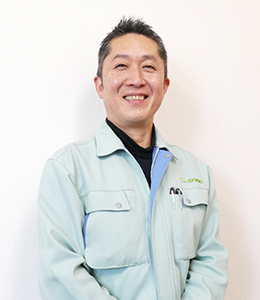 Since its establishment, Sanokiko has long been involved in the manufacturing industry, mainly in automotive parts, utilizing its press-working technology.
In 2011, inspired by the request of the Tochigi Prefectural Police, Sanokiko began development and manufacturing of security equipment, and starting with SC14 / SC17, the company has developed six types of products, including SF7 and SB16. Sanokiko was awarded by the Director-General of the National Police Agency four times for its achievements.
We hope that Sanokiko's security equipment will contribute to the safety of your lives in Japan and around the world!
CEO Takemitsu Sano
Company Profile
Company Name
Sanokiko Co., Ltd.
Chief Executive Officer (CEO)
Takemitsu Sano
Established
January 8, 1969
Founded
October, 1966
Headquarters location
1942 Kameyama, Moka-shi, Tochigi 321-4363
Phone Number
+81 285-83-4422 (Manufacturing Department)
Capital
10 million yen
Number of employees
41

Main Business

·Press working, design and manufacture of dies.
·In-house development and manufacture of copper products, security equipment, etc.
List of Security Equipment -Series of CERBERUS
You can quickly restrain a suspicious person by pressing Cerberus against his/her upper body or legs. After restriction, SC14 / SC17 and the body part (Sasumata) can be separated instantly and allow the user to move away from the suspicious person.

You can momentarily wrap around a suspicious person and take away his/her freedom by pressing SF7 against his/her limbs. It can be used from a safe distance against a suspicious person.

SB16 is a new lightweight, high-performance, user-friendly sasumata (wand). The special shape of its head enables you to use in various ways.

SO5 / SO7 is a compact and handy-sized tool that enable you to capture a person even in an emergency. It can also be used for protection and transportation of patients in psychiatric hospitals.

SK5S / SK5C can be attached with SC14 / SC17 and allows you to restrain a suspicious person more immediately. The horizontally positioned grips improve its usability.

By pushing the head of ST7 against the limbs of a suspicious person as if to sweep them away, it instantly wraps around them and takes away their freedom. You can use from a safe distance against suspicious persons, and even in tight spaces.

Original SASUMATA (SM)


Sanokiko's original security wand specialized for its portability and light weight. You can attach the SC14 / SC17 on it.

 

 

 

 

 

 
Email Form
*Required
E-mail
If you are unable to send via the email form, please fill out the same fields as in the email form and contact us at the email address below.

LOCATION
Sanokiko Co., Ltd.

1942 Kameyama, Moka-shi, Tochigi 321-4363
Phone Number of Commercial Department: +81 285-82-4522
Phone Number of Manufacturing Department: +81 285-83-4422
How to access

By Train
Approximately 40 minutes by car from "Utsunomiya Station" of the Tohoku Shinkansen Line
Approximately 30 minutes by car from "Jakumiya Station" of the JR Utsunomiya Line

By Car
5 minutes from Moka Inter Change (IC) of Kita-Kanto Expressway